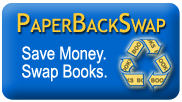 Have I told you all about this place, Paperback Swap? Oh man!!! For anyone who loves to read, you have got to join!!!
You list your books, they give you a credit from them when you send them to another member, you use your credits to request books from others! It's great!!! I have the series that I have read and reviewed here listed, I sendthem to someone else, and I try out something new. Better than buying new books, espically because it only cost me the couple bucks to ship them! What is better than that?!!?
Check them out! I am sure you will be pleased! Not a book reader? They also have Swap-a-CD and Swap-a-DVD programs....what are you waiting for!!!